Many celebrities have managed to stop the hands of time. Actresses and models seem to have found the fountain of youth. Demi Moore, Halle Berry, Sofia Vergara, Cindy Crawford, Naomi Campbell, the list goes on and on! So how exactly are they doing it? And how can we get in on the action?
While dieting and exercise are major factors, skin care is extremely important in maintaining your youthful glow. At any stage of life whether you are in your 20s, 30s, 40s, basic skincare is necessary in the anti-aging process. And with all skin care routines whether for anti-aging purposes or not, consistency is KEY; it's like dieting, you can't expect to see results after 1 day.
Simple Tips for Basic Skin Care:
One of the best things you can do for your skin is choosing the right products. Each person's skin is different, the main thing is to try products out until you find what works best for you. Major things to remember:

Always protect your skin! It doesn't have to be an 80° summer day in order for you to get a sunburn, it can happen during any season. So it is in your best interest to always be protected. Find moisturizers and creams that have a SPF built in already so you don't have to worry about applying more than one layer of product.

Expensive doesn't always mean better. Most people do not have hundreds of dollars to spend on beauty products, and that's okay! There are tons of drugstore products that don't cost as much and can still do the same job.

Look for products that contain these items:

Vitamin C- This particular vitamin works to protect our skin from harmful outside elements, like the sun and pollution. It also reduces the appearance of brown spots, sun damage, acne spots, and promotes the development of collagen.
Retinol- Like Vitamin C, Retinol boosts collagen production which reduces the look of fine lines and wrinkles on the face, it can also even out your overall skin tone.
AHA – Alpha Hydroxy Acid- Typically moisturizes and removes dead skin cells from the face. It can also treat acne, diminish the look of scars, firm and smooth, and help the overall look of aged skin.
BHA – Beta Hydroxy Acid- Promote the growth of new skin by exfoliating off dead skin, sort of like an AHA. The difference is, BHAs are able to penetrate into the pores to exfoliate dead skin versus just staying on the top layer.
Antioxidants – Smooth the skin and fight against wrinkles.

What works for one body part may not work for the others. Take your eyes for example, the creams you use on your face may be too harsh for the sensitive skin around your eyes. Using an eye cream can help hydrate the area without irritating it.

Always treat your face, neck, chest, and hands the same way! Anti-Aging doesn't start and stop with the face, other body parts have been known to indicate a person's age. This means cleansing, toning, exfoliating, and moisturizing all 4 areas.
Ladies, make sure to remove ALL make-up, not removing it just might be the worst thing you could do for your skin. In 2013, a reporter for the Daily Mail decided to test this theory out on herself. She went to bed every night, for a month, without removing her makeup – the results were startling to say the least. She experienced a large increase in pore size, redness, dryness, and irritation in and around her eyes. Experts she consulted with stated her skin aged about 10 years in the month she wore her makeup to sleep. Moral of the story: Make sure your face is spotless before sleep.
If basic skin care is just not enough, there are always cosmetic procedures. Unfortunately once someone hears the words "cosmetic procedure" they almost immediately revert back to the times when people had to go under the knife for major surgery. Long gone are those days – there are so many minimally invasive and non-invasive procedures and treatments for people to regain their youthful appearance.
Dermal Fillers- Add volume to the skin that may have lost its fullness due to the aging process. (Fuller face = younger face). Kahn Dermatology PLLC offers the following fillers.
o Botox
o Juvederm, Juvederm Voluma
o Restylane Series: Restylane, Restylane Lyft, Restylane Silk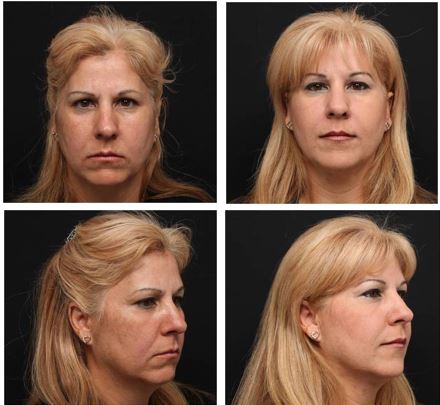 ALL PHOTOS FROM REALSELF.COM
Currently our offices are offering a great promotion for the series of Restylane products as well as Dysport. The offer ends at the end of December, so be sure to contact our offices.
o Laser Genesis: Eliminates redness, scarring, uneven skin tone, large pores and fine lines and wrinkles. It enlists heat to penetrate the surface of the skin creating new collagen.
o Glycolic Acid Peel: Has been used to decrease the appearance of fine lines and wrinkles.
o VI Peel: Reverses the effects of skin damage, as well as stimulates the growth of collagen and elastin which make for firmer skin.
The information presented here is so minimal to the large scope of information out there regarding anti-aging. This is why for the first time Kahn Dermatology PLLC, is offering an Anti-Aging Master Class! Become an expert on all things aging from our very own PA Terri Raymond, as well as get fashion advice for dressing the part from a former Project Runway designer. January 10th 2016, New Year New You!